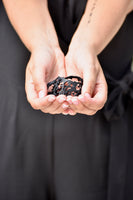 About Apara
Our products are very unique, to say the least. The jewelry is mainly made from crushed mineral. APARA uses Silica, a natural raw material extracted from minerals such as flint, quartz or opal, in the manufacturing of its jewelry.
The APARA jewelry is available in elegant collections that you can wear in any situation, chic or casual, for a distinctly contemporary accent.
Our collections combine the stylish creativity of the French with the vibrancy of the United States.
Learn More